This is the Feng Shui elements article part two.
In the previous post, I mentioned that from the moment we were born we carry two types of inborn Feng Shui elements:
a) The Gua number element and
b) The Melodic Feng Shui elements.
Each element has different propose. They are calculated using the birth year of a person. In term of the Melodic Feng Shui element, unlike Gua numbers, they are no change between male and female. Regardless of the gender, born in the same year,  they carry the same Melodic element.
You can go back to Feng Shui Elements post to read more about them. Now, let's continues…to Feng Shui elements part 2, to quickly find out the element of a birth year using our palm.
You need to remember these 5 numbers and its elements by heart.
1 = Wood, 2 = Metal, 3 = Water, 4 = Fire, 5 = Earth.
Here is the Feng Shui melodic elements formula. Add up the number of Heavenly Stem and Earthly Branches.
If the sum is greater than 5, take 5 away. The remainders must be in between 1 to 5.
If the remainder is 1, it is Wood.
If the remainder is 2, it is Metal.
If the remainder is 3, it is Water.
If the remainder is 4, it is Fire.
If the remainder is 5, it is Earth.
For example: 1990, the Stem and branch is 庚午.
Look at the palm.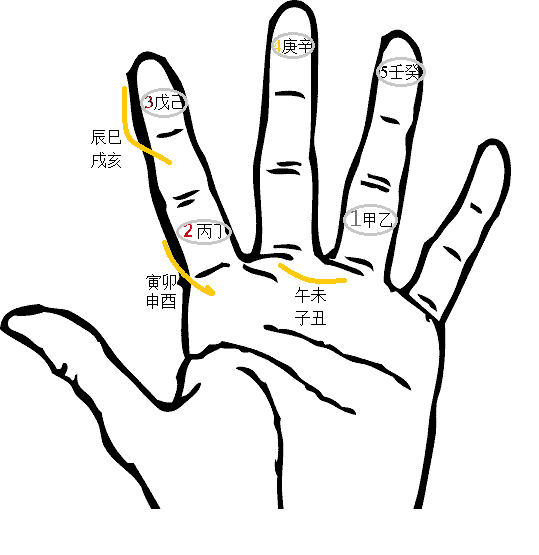 庚 is 4.
午 is 1.
Add 4 and 1.
It is 5. So the melodic element is Earth.
If you don't want to memories it, you can use the following table.
Years
Stems/Branches
Melodic Elements
Years
Stems/Branches
Melodic Elements
1924
1984
甲子
Metal
1954
2014
甲午
Metal
1925
1985
乙丑
1955
2015
乙未
1926
1986
丙寅
Fire
1956
2016
丙申
Fire
1927
1987
丁卯
1957
2017
丁酉
1928
1988
戊辰
Wood
1958
2018
戊戌
Wood
1929
1989
己巳
1959
2019
己亥
1930
1990
庚午
Earth
1960
2020
庚子
Earth
1931
1991
辛未
1961
2021
辛丑
1932
1992
壬申
Metal
1962
2022
壬寅
Metal
1933
1993
癸酉
1963
2023
癸卯
1934
1994
甲戌
Fire
1964
2024
甲辰
Fire
1935
1995
乙亥
1965
2025
乙巳
1936
1996
丙子
Water
1966
2026
丙午
Water
1937
1997
丁丑
1967
2027
丁未
1938
1998
戊寅
Earth
1968
2028
戊申
Earth
1939
1999
己卯
1969
2029
己酉
1940
2000
庚辰
Metal
1970
2030
庚戌
Metal
1941
2001
辛巳
1971
2031
辛亥
1942
2002
壬午
Wood
1972
2032
壬子
Wood
1943
2003
癸未
1973
2033
癸丑
1944
2004
甲申
Water
1974
2034
甲寅
Water
1945
2005
乙酉
1975
2035
乙卯
1946
2006
丙戌
Earth
1976
2036
丙辰
Earth
1947
2007
丁亥
1977
2037
丁巳
1948
2008
戊子
Fire
1978
2038
戊午
Fire
1949
2009
己丑
1979
2039
己未
1950
2010
庚寅
Wood
1980
2040
庚申
Wood
1951
2011
辛卯
1981
2041
辛酉
1952
2012
壬辰
Water
1982
2042
壬戌
Water
1953
2013
癸巳
1983
2043
癸亥