Advanced San Yuen Yuen Gua Feng Shui workshop <<元卦三元風水系統>>
Feng Shui Workshop includes 4 days of Feng Shui theories and1day onsite practice = total 5 days.
Do you find the Feng Shui systems you learnt conflicting with each other?
you like to find out the way to marry the Feng Shui systems you have learnt in past together?
Do you like to quickly pin point out the Feng shui issues (good and bad) of a premises?
Do you like to increase the positive Feng Shui results for yourself and for your clients?
Through San Yuen Yuen Gua Feng Shui system, After the seocnd day of the Feng Shui workshop you can quickly:
Clear the confusion on the Feng Shui systems you learnt.
Marry the Feng Shui Systems.
Identify Feng Shui issues for a house, office….and rectify them
Correctly implement Feng Shui improvement methods for yourself and clients and
Many, many more read on….
Feng Shui Workshop on Yuen Gua San Yuen Feng Shui System includes:
In this Feng Shui workshop you will learn the Correct way of Feng Shui:
The advance Feng Shui concepts
The principals of Hetu, LuoShu, early Heaven Bagua, Later Heaven Ba Gua & how it works
Including: Yin and Yang
Heaven Stems and Earth Branches, Five Elements (Wu Xing)
Earth Branches and Directions
Earth Branches and Year, Month, Time, Day and Animals signs (rat, ox, tiger….)
The Yin, The Yang of a house, And
The secret of the Early Heaven BaGua, Later Heaven BaGua relationship.
A: The 10 Yuen Gua Feng Shui Principals of intersects for Health, Wealth and Power (官貴*):
1st Feng Shui Principal: Direct intersect
2nd Feng Shui Principal: Indirect intersect
3rd Feng Shui Principal: Early-Later Heaven Bagua Intersect
4th Feng Shui Principal: mixing Gua intersect
5th Feng Shui Principal: Inverse intersect
6th Feng Shui Principal: 3-8 Intersect
7th Feng Shui Principal: Heaven cross intersect (Cardinal / Primary Inter Cardinal)
8th Feng Shui Principal: River East, River West, North-South Gua Intersect
9th Feng Shui Principal: The main wonderful Intersect
10th Feng Shui Principal:  Yuen Gua offspring丁, wealth財 and power貴.
B: Avoid the 6 Yuen Gua Feng Shui No-no configurations
1st Avoid Bad Feng Shui Configuration:   Mixing into one Gua
2nd Avoid Bad Feng Shui Configuration:  Lù祿 táng 堂yǔ 與yáng陽 rèn刃.
3rd Avoid Bad Feng Shui Configuration:  3x consecutive Feng Shui Mountains
4th Avoid Bad Feng Shui Configuration:  Poor貧, lonely 單and extinct 絕
5th Avoid Bad Feng Shui Configuration:  Five五 Thunder雷 killings打丁
6th Avoid Bad Feng Shui Configuration:  6 Mountains lining up.
C: The real and fake Yellow Spring Sha and Basha in Yuen Gua Feng Shui System:
1) Yellow Spring Sha (黃泉) Stems and Branches Yellow Spring Sha.
2) Ba Sha (8 killings Sha八煞)
Apply the Saving the Poor Yellow Spring sha technique to bring in wealth?
Speeding up the Power, promotion by using Yellow Spring Sha technique?
How to determine the real and fake Yellow Spring and Eight Sha (8 killings Sha)
D: Stems and Branches Space and time and their applications/
E: North Hemisphere Vs Southern Hemisphere
F: The Compass rings and applications in Yuen Gua System:
G: Sitting and facing
H: Incoming dragon & its relation with the sitting.
I: Setting the Taiji, drawing technique.
J: What is the Borrow Qi luck and how to use them
K: Family members, marriage, peach flower, Academic star , investiment…
L: How to apply Four Water mouths Golden Chariot technique.
M: How to arrange five ghosts carry wealth technique
N: How to apply San Ban Gua. (147, 258,369)
O: Yang Feng Shui will discuss the followings:
Bed placement
Stove placement, what is Stove representing?
Location of the main entrance, internal door, balcony door,
Internal and external Water Mouths exiting technique, Location of the toilets, drainages,
Washing machine, what does this mean? Good or bad?
Location of the Well or bore, where is the best location to have one?
Techniques of the Incoming water pipe, gas pipe, electricity wires,
Where should the hot water service, fish pond, fish tank be located?
Identify illness of premises brings and who may have it?
Accurately predict the time on what will happen and had happened?
How to activate personal luck according to birth year or animal signs?
Apply all techniques to Homes, offices, factories……
Comments Testimonials  from Students who attended the previous San Yuen Yuen Gua Feng Shui Workshop.
"Edgar's Feng Shui course has changed my view towards Feng Shui forever and lift my Feng Shui business to another level. I am so very honoured to have the chance to learn from a true Master, who is humble, a man with few words but each of them are true wisdom. If you ever want to do a Feng Shui course, this is it! This is the kind of Feng Shui we need to learn and educate to the mass, because it is changing people's lives on a very grounded and practical level. Most importantly, it produces accurate results in a very short period time. 10 out of 10." - Grace Griffin - Feng Shui Master - Oct 2018
---
"As an Accredited Feng Shui Master there's not methods that I do not know in both Traditional schools of Feng Shui as I have studied most of them. However many times my implementations did not work as I presumed it was their Destiny. Knowing this system I now know why they did not work. Thank you Master Edgar for your willingness to share the oldest original Feng Shui method handed down from the Founder of Feng Shui, Grand Master Yang Yun Song." - Lizette Akouri - Feng Shui Master - Oct 2018
---
Thank you Edgar for a very informative and useful workshop. It is always an honor to attend your workshops and be your student. You teach a full pure Feng Shui system. - J Lee Feng Shui consultant - Aug 2018
---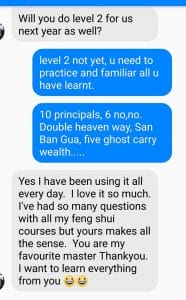 2020 Feng Shui workshop schedule as the followings: Don't miss out: Contact Edgar 0429 188 888 to secure your seat. 
Melbourne Workshop
Venue: North Balwyn, VIC
Date:27th March - 31st March, 2020
Time: 9.0am to 12.30pm 1:30-5.pm
Investment: $3080
Early Bird Pay A$ 800 now and balance $2280 by 17th March 2020. Save $300.
After 17th March 2020 you pay 3380
If you are re-attending the workshop, you only pay $600.
Must learn these Chinese Feng Shui characters by heart first:
天干

Stems

甲

Jia

乙

Yi

丙

Bing

丁

Ding

戊

Wu

己

Ji

庚

Geng

辛

Xin

壬

Ren

癸

Gui

十二支

Branches

子

Zi

丑

Chou

寅

Yin

卯

Mao

辰

Chen

巳

Si

午

Wu

未

Wei

申

Shen

酉

You

戌

Xu

亥

Hai

乾
坎
艮
震
巽
離
坤
兌
Qian
Kan
Gen
Zhen
Xun
Li
Kun
Dui
* Power (官貴): means activation for career promotion, study, academic...
Click here to learn how to write these Heavenly Stems.